What will the future of Nelson look like in 2030?
Imagine it's the year 2030. What would you like Nelson to look like?
How do you want to live, work, socialise, and interact with your community?
How would you like future generations to experience Nelson's heritage, culture, and intellectual capital?
How can we be good ancestors?
Our city's future depends on the decisions we make today.
Without decisive action – backed by a clear vision – our CBD's development and re-vitalisation will stagnate, and our city's livability will dwindle. We risk an increase in social division and isolation and a lack of opportunities for our youth.
But it doesn't have to be that way.
Cities in transition need experiments and discovery much more than they need certainty – Marcus Westbury
Reimagining a new Nelson library as an ideas factory - Richard Brudvik-Lindner
What our new library could look like...
We need to re-invent the concept of a library, bringing it into the 21st century, while keeping books at its centre. Here are some talking points to consider in your submission…
The library as an Idea Factory
Imagine a new library that is about so much more than books. In fact, it is more of an Idea Factory! But what does that even mean? Imagine a facility that is very versatile in design and multi-functional, the "hub" of a knowledge precinct for the city. Such an Idea Factory would be a strategic investment, one which helps to transform our economy and dramatically enhance our livability while creating a wealth of opportunities!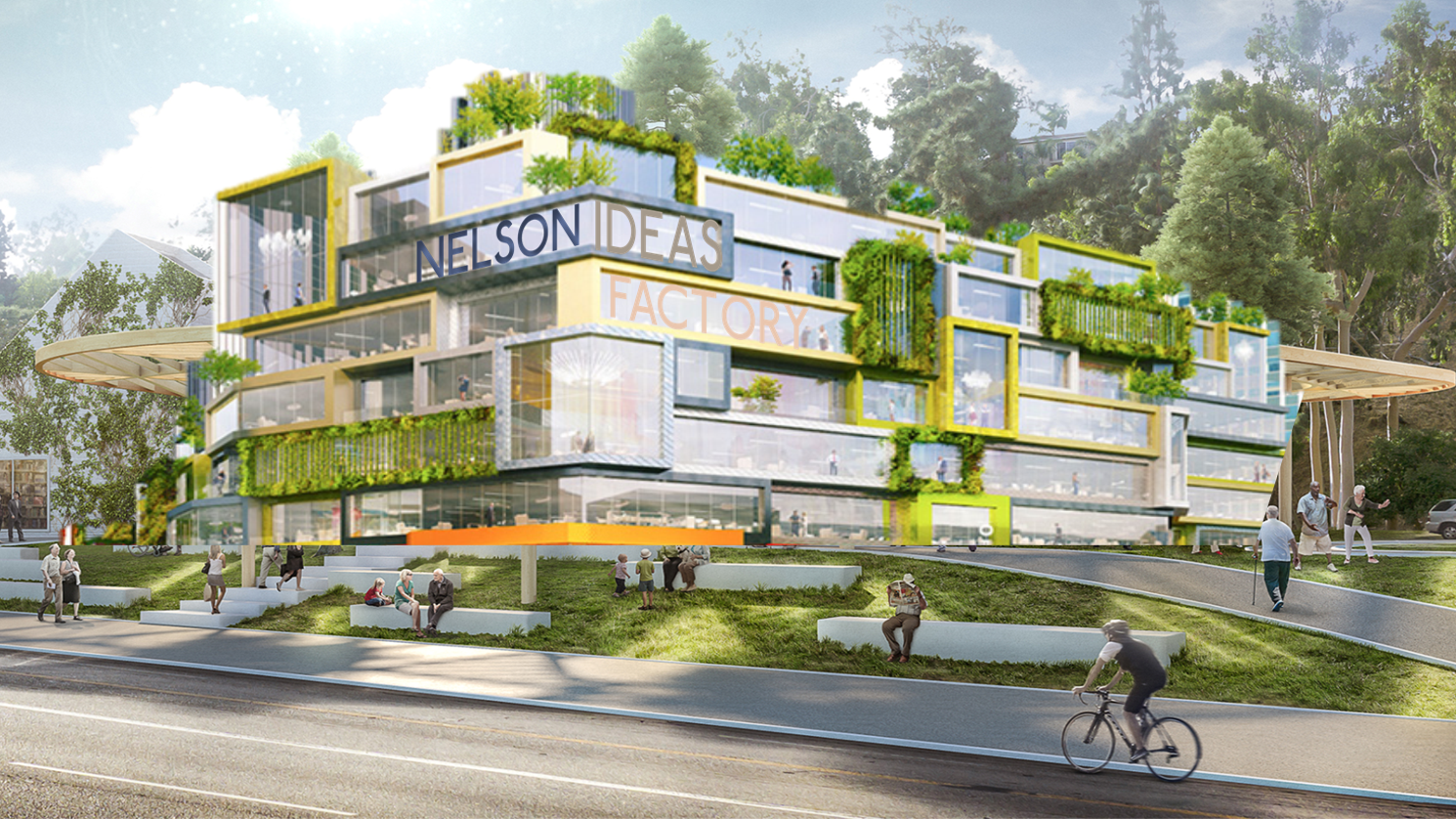 Artist's impression of an Idea Factory
The library as a community hub
Libraries are one of the great equalizers in a society. They are often the only place people can go without being expected to spend money. This fact makes a multifunctional library a key catalyst to transforming our economy. A new library also needs to be a key element in keeping our community relevant to the lives of young people and beckoning them to stay here and be part of our knowledge economy. It should be a place of collaboration, creativity, exploration, learning and fun for people of all ages, ethnicities, and socio-economic strata.
Places of collaboration, creativity, exploration, and learning 
The library as a collaboration platform
To create a vibrant riverside precinct around the library, a key element is collaborating with Iwi through Wakatu Inc in a joint venture or public-private partnership with them or other stakeholders. A plan which incorporates a floor or two of living spaces into the new library building could be considered, as could putting the library and the Climatorium in the same building. Such collaboration would mean that building costs are shared and the public cost of the structure per square metre would be reduced.
Places for cross-fertilisation of ideas

The library as an investment
Consider the possibilities of allowing crowdfunding/equity sharing as one of the funding mechanisms for the new building. This would allow local people to directly invest in the future of their community. With various possible future use space and continuous growth in mind, we need to make sure that the new facility has enough floorspace to comfortably host a growing library collection. This is a critical point which the current plan for a new facility does not allow for.
Books are still at the heart of an Idea Factory – – Book mountain in Spijkenisse, Netherlands

The library as a vibrant centre
The riverside facility could include working and living spaces. Having such mixed-use areas will mean the riverside district is "alive" 24/7, not just during library hours. The priority should be to make the entire area around Trafalgar Center/Pavillion to the Library district a "lived in" space. This would create a vibrant area to visit, live or work in and make optimal use of the land.
The library as a social equalizer
A re-imagined and re-invented library would help address our economic and social ills. Whether we like it or not, we are facing increasingly low productivity, declining working age population, low wage economy, ever-widening inequitable distribution of wealth, and momentum toward becoming a geriatric city that has less and less room for the vibrancy of families or the energy of youth. Through a multi-use public facility that enhances our community as a place to work, innovate and play, we can bring life back into the heart of our city and create opportunities for all.
Creating opportunities for all

The library as the heart of our city
The new library and re-imagined riverside district should be a keystone in connecting the CBD to the waterfront, the emerging science & technology precinct in the haven, and the marina. An Idea Factory should be central to revitalising our CBD through place making that establishes the library as the "third place" for all segments of our community—the living room of our community that brings everyone together.
The Culture Yard and library in Helsingør, Denmark

Bad libraries build collections. Good libraries build services. Great libraries build communities – R. David Lankes
Libraries all over the world are changing...
Buzzing with activity… board games set up all over, with active play at each station. A lego creation area. A studio for media, music and video film-making. 3D printing, laser and vinyl cutting. Even robotics
Christchurch, New Zealand

Brings the outside inside. Creates a space people want to be in – Even if they don't feel like reading a book. Their library is the public space for the whole community. It just feels good to be in the space
This library features reading rooms, learning spaces, archives, information services, and books… A tourist attraction of its own
Living rooms with comfy twirly chairs to watch the world go by, while snuggling up to a good book. Two cafes, a teen center, a 300-seat theatre, a childrens floor, the great reading room richly panelled in wood
Reading balconies. A seed library to encourage community gardens. Designed as a peaceful oasis. A technology "petting zoo" — learn how to use new technology regardless of your age or your economic status
A "book heaven" & urban workshop. Pop-up markets: entrepreneurs market-test and sell new inventions. Pop-up art exhibits: artists show their work. Pop-up info desks: local charities engage with the public
This this astounding library is a tiered, five-story structure similar to a pyramid, featuring a huge glass and timber outer shell, with books stacked on shelves that wind around brick walls
In the Utrecht library, diverse activities – lectures, debates, exhibitions, presentations, workshops and courses – are concentrated under one roof in their library building.
This library building combines different purposes under one roof, including a public library, municipal services and a theater space, while leasing out the upper floor of the building
The Thionville mediatheque exhibits, and makes available to a wide public, all types of content including printed matter, audiovisuals, and events such as conferences, musical performances and workshops
Blenheim has begun building a combined library & art gallery in its CBD. It is set to include a cafe, a reception area, several "special collections", and a climate-controlled exhibition gallery on the ground floor
Palmerston north has built a youth space into their city library, which includes a stage for jam sessions.  The city library is referred to as "the living room of the community"
Palmerston North, New Zealand
This is a space for all to enjoy. Kids come after school to study or play games, elderly meet here to chat, and the regular events hosted here are enjoyed by all. The big windows and clever lighting make it a comfortable environment.
Despite having a population of less than 70k, Helsingør has created a culture yard out of an old shipyard that has been converted to a multi-functional cultural space with a library at its heart. It is brimming with life and activities for all.
Aside from the over 1 million books, the labs, recording studios, broadcast rooms with greenscreens and monthly performances by the National Philharmonic Orchestra attract locals and tourists alike.
These libraries are about more than just books.
They are about place-making – creating urban places that have a positive impact on the community. Places where the entire family can come for the day without getting bored. Places for tourists to visit on a rainy day. Places that people enjoy spending time in. Places that are buzzing with activity.
Let's treat our new library as an investment in our community… and as a driver of our economy
Economist Mariana Mazzucato outlines in her book The Value of Everything the crucial role the public sector plays in generating value in an economy, in a community. She says it does this by providing economic stimulus, creating intellectual capital, creating infrastructure, creating public amneties, and creating a civil society and the places in which that society can interact — across all strata of society. Government is not just a facilitator of private sector value creation, but an active creator of value. This is 21st century economics.
Our new library has the potential to become…
An economic engine of the city and the region; a mechanism to address undesirable demographic and economic trends
A place for inter-generational interaction – the "living room of our community so to speak, which is important with an aging population, and an increasingly marginalised youth population
A strategic investment tied to strategic economic and cultural outcomes of Prosperity, Equitability, Vitality, Sustainability, and Liveability
The centre point of an intellectual capital ecosystem for the community, and its economy, by fostering other supporting elements to grow up around it
A catalyst for CBD re-development by freeing up other land parcels and creating an incentive for redevelopment around it
An innovation hub of our 10 concentrated economies:
The library is the most used public facility in Nelson
When considering funding, it is important to analyse a facility's usage against any potential costs.  The library has by far the highest usage per square metre of any NCC facility, including Saxton Park. Our library gets more daily use than Trafalgar Centre and Trafalgar Park Stadium
As of 2017, there were 23,730 active library users in Nelson (out of a population of 46,437) and 505,792 library visits, and 724,721 materials issued, according to NCC records for the most recent available stats. Of the some 506,000 annual uses, some 351,000 uses come from those living in Nelson), and these uses exclude usage of the Stoke and Tahuna branch libraries.
Trafalgar Stadium averages 35% less usage every year than that, and Trafalgar Centre & Pavilion averages 1/10th the usage of the library. Or, to put it another way, the library has at least 50% greater usage than both Trafalgar Centre and Trafalgar Stadium – combined.
Nelson has one of the most used libraries per capita of any library in the country.
But of the three, the library isn't the one seen as a totem of our civic pride, nor is it the one that gets the most funding and attention.
The library is well worth spending big on, if it is money strategically spent.
Potential funding sources
Having ambitious plans for the library means also having innovative ideas on how it can be funded.
We should explore alternative funding mechanisms, such as these:
Joint venture/public-private partnerships
Provincial growth fund
Municipal bonds
Private equity stakes
Crowd-funding
Combining financial resources with other non-profit entities
Sponsorship of spaces
Tenanting income
Condo-like ownership of spaces within the larger structure or within the complex – buying floorspace
Network Tasman dividends reallocated
What could be included in this mixed-use development...
Let other communities treat libraries like obligatory albatrosses hung round their necks. Like expenditures. Like liabilities. We will treat ours like an economic engine. Re-thinking everything about it. Re-inventing what a library means to a community.
We can shape Nelson's future towards becoming a more prosperous, equitable, sustainable, livable, and vibrant community
A new library, a fully re-invented library – think of it as an "Idea Factory" – can play a key role in Nelson's (and all of Te Tahuihu's) economic, social, and environmental development.
Nelson has the opportunity to create a place of innovation, where ideas can cross-pollinate, where people come together and make new connections that can lead to new ideas, new projects, new ventures, and new inter-personal relationships, which bring together disparate generations and social strata of society.  Libraries are the great equalisers of society.
A re-invented library – or Idea Factory – has the ability to not only transform our community, but to house an innovation economy. An economy that attracts intellectual capital, talent, and ventures. An economy that allows us to seize our potential and bring greater prosperity to our community, which – in turn – fosters greater sustainability, livability, and social equity.
It's about more than just a new version of the old.
Let's honour the legacy of our ancestors and pave the way for a brighter future
Our ancestors had the vision of a civic centre. A centre that includes a well-equipped library, a museum of history and ethnology, and a philosophical society to promote intellectual development.
Think about how congruent this vision is with the modern day vision of an "Idea Factory" in Nelson.
Nelson has long been a city of intellectual capital and of innovation:
first literary, scientific, and philosophic institute in NZ – Nelson Institute;
first public-benefit science trust organisation – Cawthron Institute;
first provincial museum – Nelson Provincial Museum;
first school of music in NZ – Nelson School of Music;
oldest state-supported high school – Nelson College;
first NZ Nobel Prize laureate – Lord Ernest Rutherford,
founding place of the World of Wearable Art;
third public art gallery in NZ—Suter Gallery;
most active Science Society in NZ;
most active Institute of International Affairs in NZ;
one of the first technical education institutes in the country – NMIT;
NZ's longest continuous library service to the public;
more scientists and researchers per capita in the nation;
biggest provider of jobs located within the region – NMDHB;
very high rates of entrepreneurial businesses per capita.
Nelson has a history of not only the cultivation of the intellectual and creative life of its people, but it has a history of extending the world of art, knowledge, and culture to a wide swath of its people. The council and leaders of Nelson have a history of treating the sharing of knowledge as a fundamental obligation it has to the public. Our actions today should affirm this part of our history.
The first purpose-built central library in Nelson in 110 years should be executed in a way that is as bold and as innovative as our ancestors' efforts were.
We need to cherish and enhance our heritage as a place of innovation, of intellectual capital, of invention, of inspiration, and we should make explicit in our intent, and in our implementation, how a new library, an Idea Factory, builds on that. We need to honour our ancestors. They embraced a public service and public betterment ethos that is worth emulating today.
Our ancestors bequeathed a strong legacy of intellect, innovation, and invention for our city, and we need to be good ancestors in carrying that forward.
We have an obligation to our history, and Nelson City Council should carefully cultivate an intention to honour that history, and that instinct of enhancing the lives of the public through innovative public institutions.
Activities and services could include...
Our library should seek to reinvent what a library is and include a range of spaces scoped and scaled for our city, but drawing on the latest library functionality around the world, including (but not necessitating all of these):
Co-officing & Co-op Spaces
Community Services Centre
Sharing Economy Library of Things
Board Game Café & Library

Podcast & Broadcast Studio

Digital Media Studio & Editing Suites
Visiting Innovator in Residence Spaces
Genealogy & Whakapapa Centre
Medical Tech Collaboration Lab
Maori Taonga Storytelling Kohanga
Pop Up Poetry Slam/Comedy Club
Fashion Design Studio & Sewing Workshop
A library in the middle of the community is a cross between an emergency exit, a life-raft and a festival. They are cathedrals of the mind; hospitals of the soul; theme parks of the imagination. On a cold, rainy island, they are the only sheltered public spaces where you are not a consumer but a citizen instead.  – British columnist Caitlin Moran