We help GIS superheroes win their markets through magnetic brand storytelling, conversion copywriting, and strategic content marketing
CHOOSE YOUR SIDEKICK
Meet our alter egos, AKA the four sidekicks
THE MUSCLE
AKA someone to do the heavy lifting for you
Ideal if you know what you want in terms of copy or content but don't have the time to write it yourself
THE BRAINS
AKA someone to dream up genius solutions to your biggest marketing struggles
Ideal if you need a big-picture strategist to craft your next winning copy or content campaign
THE HUMANISER
AKA someone to help give your brand a personality and tell captivating brand stories
Ideal if you struggle to stand out or connect with your audience
THE FRIEND
AKA your loyal companion who helps you every step of the way
Ideal if you're looking for a complete solution – from strategy to execution & optimisation
OUR PROCESS
Because you're not paying us to guess!
Our proven HERO process combines the science and art of research with the proven principles of search engine optimisation, marketing, UX, and conversion copywriting to win the hearts of your clients.
MEET THE TEAM
You've already met the four sidekicks – but who are the people behind the alter egos?
HELENA
STRATEGIC CONSULTANT &
SEO/CONVERSION COPYWRITER
Favourite alter ego: The Brains
With a deep understanding of the digital landscape, I like to consider all the moving parts of a dynamic marketing strategy. This allows me to analyse your business from a big picture perspective and craft a startlingly good content strategy to support your business goals.
Street cred: BSc in Geography, MSc in GIS, MA in Linguistics
I've always been torn between GIS and language, so I crafted my niche to do both. I can dust off my GIS degree to gain a thorough understanding of your solution and use my language chops to communicate it with the world in an engaging way.
Secret identities: amateur bodybuilder, TEDx speaker, PhD candidate
I like to dabble in bodybuilding – so if you need some muscle (quads, specifically), I'm your girl. I have also given a TEDx talk about (you guessed it!) communication, and I'm doing a PhD in the mashup of GIS and linguistics (there goes my niche again!).
Interested in working with me?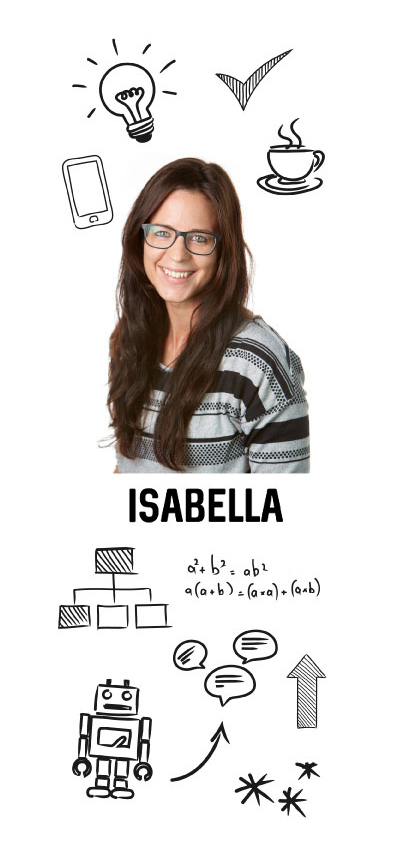 ISABELLA
STRATEGIC CONSULTANT & UX DESIGN
Favourite alter ego – The Friend
Will you be my friend? I don't have any friends… I think I need a hug! (Admit it, you read that in Donkey's voice). No, seriously, when we work together, I become part of your team – like a true friend. I give your project my undivided attention and gain a deep understanding of what drives you. This allows me to optimally position you in the digital landscape with a winning edge.
Street cred: BA in English Literature, BSc in Geology, MSc in Geology
In a past life, I worked as a geologist turned project manager at a large Geotech company. Although my inner nerd was deeply satisfied, something was missing. The ability to flex my creative muscle! Nowadays, I prefer to admire rocks from afar and channel my creative energy into telling your brand stories that connect and convert.
Secret identities: world's best pizza chef, photographer, outdoor enthusiast
I make some of the best pizza in the world. Honestly, I do. And if you're ever in the neighbourhood I'd be happy to prove it. Unless it happens to be the weekend, where I'll more than likely be scrambling up (or down) a mountain somewhere in the great outdoors and taking lots of happy snaps along the way.
FUN FACT
We collaborate on all projects, bounce ideas off each other, and work together to solve your problems. So you're always getting two brains for the price of one
Want two brains for the price of one?