If you've ever written website content, you have likely heard about the importance of using SEO keywords.
The truth is, if you're not using keywords effectively, you're losing valuable traffic to your site. And less traffic means less business.
Research shows that 95% of people only look at the first page of search results. So, if your site doesn't make the cut and lands on the second page of Google (or any page after that), your traffic potential is severely impacted.
By losing out on potential organic traffic, you're missing out on valuable leads and sales.
That's why it's important to use the right SEO keywords effectively in your website content.
In this article, we're going to cover how to choose the right keywords to maximise search potential and how to best weave them into your website content.
But first, let's make sure we're on the same page about what we mean by SEO keywords.
What are SEO Keywords
Before we talk about keywords, let's quickly define SEO or search engine optimisation.
According to Neil Patel, "SEO is a method of optimizing (enhancing the effectiveness of) your content for the search engines, in order to help it rank higher than content from other sites that target the same search terms".
Meanwhile, "Keywords are ideas and topics that define what your content is about. In terms of SEO, they're the words and phrases that searchers enter into search engines, also called "search queries." If you boil everything on your page — all the images, video, copy, etc. — down to simple words and phrases, those are your primary keywords" – Moz
That means SEO keywords are the bridge between what your audience is searching for and your website content.
Even if you have world-class content and there's a hot market searching for it, you won't get found unless you connect the two through targeted SEO keywords.
That's why it's important to strategically target the correct keywords on your website.
First, let's take a quick look at how to find the best keywords. Then, I'll show you how to use them to write effective SEO content.
How to Find the Best SEO Keywords
To find the best SEO keywords, you need to start by doing keyword research.
The easiest way to do this is by using a paid keyword research tool like Moz, SEMrush or KWfinder.
Although these tools cost an annual subscription fee, you can sign up for a free trial. This will give you access for anywhere between 7 and 30 days, which should be long enough for a once-off website writing / optimisation project.
However, if you write content on an ongoing basis, I highly recommend you invest in a keyword research tool subscription. That way, you can search engine optimise all your content, including regular blog and social media posts.
Once you have access to a keyword research tool, follow these 3 simple steps to figure out your best SEO keywords.
Step 1: Decide on a Keyword Theme for the Page You Want to Optimise
No matter if you're looking to optimise a blog post or a website home page, you need to be clear about the theme of the page.
From a search engine perspective, it's not practical or advisable to optimise a page for multiple themes. So, even if you cover different topics in your content, you'll need to decide which topic is the main theme.
The topic you decide upon as your main theme is the starting point for your keyword research.
To find your keywords, brainstorm terms related to your topic that you think potential customers might be searching for.
Next, type your potential keywords into Google and hit enter. Then scroll to the bottom of the Search Engine Results Page (SERP), where you'll find related search terms.
This will give you an idea of what people searching for your main keyword are also searching for. From here, note down any related terms that fit with your overall page topic / theme.
Do this for all potential keywords that you've brainstormed until you have a big "master list" of potential terms and phrases.
Once you've created your master list of keywords, the next step is to check their search volumes using a keyword research tool.
Step 2: Check Search Volumes Using a SEO Keyword Research Tool
Use a keyword research tool like KWfinder to help you narrow down your master list of keywords and find the ones with the best search potential.
To do this, start by entering the terms and phrases from your master list in the keyword research tool search bar, one-by-one.
The tool will spit out a monthly search volume and keyword difficulty score for each keyword you enter, as well as suggesting related keywords.
This is crucial because it helps you find the best keywords related to your theme, even if you didn't enter them.
For example, we used KWfinder to find the best SEO keywords for a New Zealand company offering archery adventures to corporate teams. We started our keyword research by typing the term "corporate events" into KWfinder and narrowed down the results to New Zealand.
As you can see, the monthly search volume for the term "corporate events" is quite low (39 searches per month). But the related keyword "team building" has a much higher search volume (320 searches per month).
Pay close attention to the monthly search volume and keyword difficulty scores for the different keywords. These scores will help you choose your focus and supporting keywords.
Step 3: Pick Your SEO Focus Keyword and Supporting Keywords
Terms with relatively high search volumes and low to moderate difficulty scores are good candidates for your SEO keywords.
In the example above, "team building" has a higher search volume but also a higher difficulty score than "corporate events". That means it will be harder to rank for in the top ten based on the number and quality of other websites targeting this term.
To decide whether it's still feasible to achieve a good ranking, it's important to check out the competition. You can do this by clicking "Analyse SERP" in KWfinder.
This will take you to a new page, where you can see who is currently ranking in the top 10 for your term and what their domain and page authority scores are.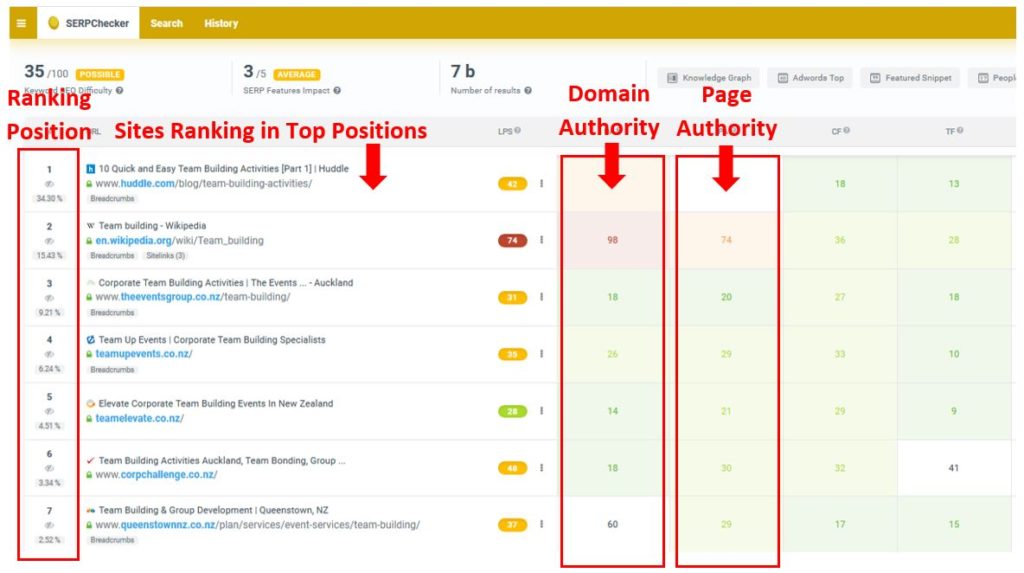 The Domain Authority and Page Authority scores (values from 0 – 100) basically tell you how "trusted" the site is by Google. They are calculated based on things like the sites' backlink profile and social media interaction.
For example, websites like Wikipedia, WebMD, Facebook, etc. have "high authority" scores (scores close to 100). That means they will always rank higher for similar content than "low authority" sites.
If your site has a relatively low "authority score" and sites ranking in the top 10 for your target keywords have high authority, then it will be near impossible to outrank them.
However, if the sites ranking in the top 10 positions for your target keyword have a similar authority (or only slightly more), you can outrank them with better SEO content.
In the example above, you'd be unlikely to outrank the websites in positions 1 and 2, as they have insanely high domain and page authority. However, you could quite easily aim to rank in position 3, as the sites currently ranking in positions 3 – 10 all have relatively low domain and page authority.
To climb the ranks and position higher than the sites currently ranking in positions 3 – 10, you would need to dig deeper into these sites and see how they are using your target keyword. Does it appear in their headline? How much content is on the page? Is the page cleanly focused on that keyword, or does it cover multiple topics?
The screenshot below is taken from the site that currently ranks in position #3 for the term "team building" in New Zealand.
You can see that it has been well optimised for this term, as "team building" appears in the title tag, URL, H1 headline, H2 headline, and multiple times in the body copy.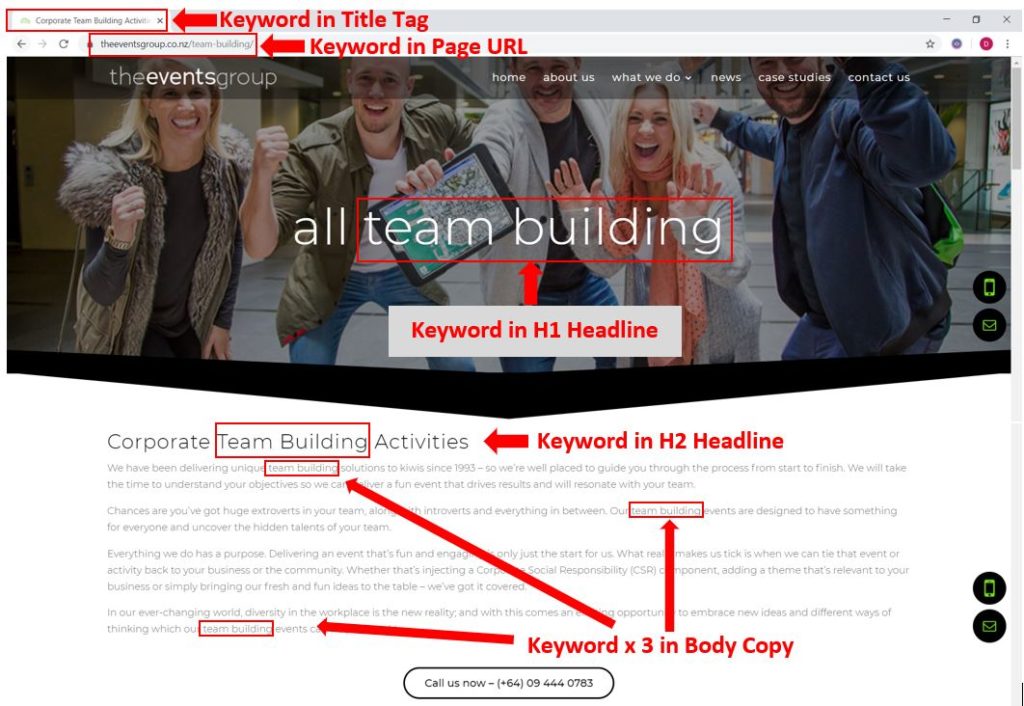 However, there are still plenty of opportunities to outrank this site.
All you would need to do is create more relevant, high-quality SEO content.
The page above only has 196 words of body copy, which is considered as "thin" content by Google. Pages with thin content don't rank nearly as well as longer pages.
So, to outrank this site, you would create longer and more in-depth content, while still staying laser focused on the keyword theme. (Aim for a minimum of 400 words per page for SEO content).
To do this well, you need to use your keywords strategically when writing your SEO content.
How to Write Effective SEO Content
After you've done your keyword research, it's time to start writing your SEO content.
By now, you should have one clear theme per page with a focus keyword and some supporting keywords. As you write your SEO content, bear in mind the page theme and your keywords and integrate them into your copy wherever it is naturally possible.
It's important that you keep your text easy to read for the human reader and not to overuse your keyword.
If search engines pick up on an unnaturally high keyword density, your site may be penalised for "keyword stuffing".
Although there is no magic keyword density to shoot for, you should aim to incorporate your focus keyword in a few key places…
Your Page Headline
Your headline is probably the single most important place to include your SEO keyword.
The way websites are structured from a technical perspective means that your headline is the top of the hierarchy (H1).
When search engines crawl your website content to determine its relevance for a certain search query, they consider the words in your headline as the most important.
If you include your SEO keyword in your page headline, you are sending a clear message to Google that this is what your page is about. This ensures that Google will consider your page as "relevant" when someone enters your keyword /phrase as a search query.
Start of Your Body Copy
You'll want to use your SEO keyword again near the start of your body copy. This simply reinforces the topic of the page to the search engine algorithm.
It's also a good idea to pack some supporting keywords into your introductory copy, to fully establish the page theme.
In saying that, make sure your copy reads naturally and not "keyword stuffed". If you force your keyword into every sentence in a way that sounds awkward or repetitive, you'll get penalised by Google and your search engine ranking will drop.
Your top priority should always be to write content for your reader, not for the search engines.
Sub-Headlines
Since you're writing at least 400 words of SEO content, it's advisable to use sub-headlines. This will keep your content easy to skim read and easy to navigate.
Like the main headline, sub-headlines are also considered as "high level hierarchy" elements. That means Google weights the importance of their content higher than that of body copy.
So, it's a good idea to reinforce your focus keyword or supporting keywords in some of your sub-headlines down the page.
Image Alt Tags
Image alt tags are another great place to mention your SEO keywords.
The alt tag is a meta property of every image you upload to your site.
Its purpose is to tell visually impaired site visitors what the image is about. So, make sure the text you use as your alt tag suits this purpose (i.e. it should describe the contents of the image).
That said, it doesn't hurt if you can naturally integrate your keyword into the alt text. But beware of simply keyword stuffing the alt tag. Google recognises this as sneaky behaviour and your site will be penalised.
Image Captions, Bullet Lists, Buttons, etc.
If you're writing SEO website content, chances are you'll use other elements than just headlines and body copy.
This includes things like image captions, bullet lists, calls to action, benefit boxes, testimonials, etc.
All these places are well-suited for sprinkling your keywords into the mix, as long as you keep things sounding natural.
Title Tags & Meta-Description
Your title tags and meta-descriptions are meta properties of your page (you define them in the back end of your site). These elements show up on the search engine results page when someone searches your keyword.
Although they don't impact your search ranking, it's a good idea to reinforce your keyword in the title tag and meta-description. This shows readers scanning the search engine results page that your listing is relevant to their search.
For example, if someone searches for "team building" and they come across the listing below, they will instantly recognise that it is relevant to what they were searching for.
Including your keyword in title tags and meta-descriptions will make searchers more likely to click on your listing than on other listings that don't appear as relevant.
URL
The best URLs are clean and descriptive.
Instead of having a messy URL that consists of www.sitename/ and then a bunch of random characters and numbers, aim to use your SEO keyword in the page URL.
This keeps your URL clean and simple and gives Google and site visitors a clue to what the page is about.
Wrapping up
It's important to target the right SEO keywords in your website content. Otherwise, you'll seriously hurt your business by missing out on valuable organic traffic to your website.
To make sure you're targeting the right keywords and using them effectively in your website content, remember the following points:
Decide on one clear theme per page
Choose high volume / low difficulty keywords
Include your focus keyword in the page headline
Mention your focus keyword in the body copy near the top of the page and once or twice further down the page
Incorporate your supporting keywords to fully establish the page theme
Make sure your keywords flow naturally within your writing and don't sound forced
Ensure you have enough content on each page to rank with (minimum 400 words per page)
If you follow these basic principles and deliver quality content, your site is well-equipped for high SEO rankings.
If you have any questions or need help writing your SEO content, please get in touch with us at [email protected]
References
[1] Lauren Kaye (2013). 95 percent of web traffic goes to sites on Page 1 of Google SERPs [study]. Published online under
Brafton Fuel Your Brand
[2] Neil Patel. SEO Copywriting: How to Write Content For People and Optimize For Google.
Published online under Neil Patel
[3] Moz. What are Keywords?
Published online under Moz
[4] Author Unknown (2018).
SEO basics:
What is thin content?
Published online under Yoast
---
If you want to build brand awareness, authority, and trust, your best bet is to start by nailing your brand story.
Whenever you are ready, there are 2 ways we can help you do that:
Join The Storydriven Marketing Academy: Our FREE course that teaches you how to consistently nail your messaging across all brand assets
Enquire about our Brand Storytelling Workshop: We work with you 1:1 over four guided workshop sessions to craft your storydriven brand messaging & content strategy